Center for Hope and Healing
Click here to read our newsletter
Our funding:
We find it very significant that our opening coincided with the Presidential mandate which would force all Americans to have health insurance or pay hefty fines. It requires virtually all private health plans nationwide to provide coverage of sterilization and contraception—including abortifacient drugs.
Because of our commitment to uphold the teachings of the Catholic Church without exception,
we receive no government funding
. This new ruling confirms us in this choice. In our avoidance of governmental funds, we also feel that we are voicing an opposition which is supporting life and the dignity of every person.
Our Work:
We had our 1st Birthday!! Ever since opening Northern Kentucky's first free clinic for uninsured individuals who are not homeless on January 24, 2012, we have called it "God's Clinic" because He provides everything we need.
For example, when we were preparing to begin our women's wellness, Sheila Carroll thought to herself, "We don't have any gowns to do the exams, how could we start without them?" The next day, sitting next to her desk was a box filled with exam gowns!
(No one knows where they came from!)
CHH Numbers for 2012
2,850 Health Ministry Visits
718 Patient Visits at the CHH
150 Influenza Vaccines
1,348 Prescriptions Paid
178 Co-pay assistance for friends with insurance
Smoking Cessation classes
Many people desire to quit, but often lack motivation and support. The health risk to this population and cost in early death and chronic illness is astronomical. One of our friends achieved 100% class attendance. He needs your prayers to maintain a smoke free life style.

In addition to tobacco cessation class, the Health Ministry of the Rose Garden Mission has plans in the near future for group diabetic education, nutrition, child development classes, parenting skills, and hypertension management. Please pray for us as the ministry develops.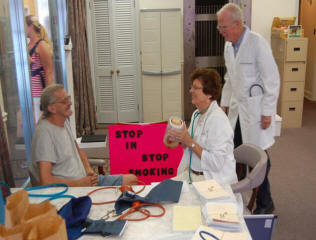 Visit us on Facebook